There are some products that don't get the marketing they deserve, and perhaps it's because the money normally spent on marketing actually went into creating an amazing product at an affordable price. Luckily the internet has many useful reviews by actual makeup artist, and individuals using such great products like

DermaColor

.
Dermacolor is considered to be both corrective and theatrical makeup. A paramedical line developed by Kryloan , and a  highly pigmented camouflage cream designed to cover up tattoos, birthmarks, skin disfigurements, and the darkest of under eye circles.
Due to it's high pigmentation a little product definitely goes a long way. Easily sets with any loose, pressed powder, and fixer spray. An over all amazing, and affordable product perfect for any professional or personal beauty kit.
How I apply:
I mainly use this corrective makeup to conceal the dark circles under my eyes, and blend it into a highlight by bringing the product all way to the temples.  Saving this step for the very end of my makeup application, only to ensure the cleanest application.  After my foundation is applied, and avoiding drop shadow from any blending on the lids of my eyes.
Tools Used:
1. Sigma concealer-F75 Retails for $9.00 and is perfect for the smoothest application directly under the eyes.
2. Sigma Tapered Blending E35 Retails for $11.00 perfect for blending under and around the eyes.
3. Bdellium Tools #957S Precision Kabuki Retails for $14.52 Perfect for blending in with your foundation.
4. MAC Large Fluff brush #227 Retails for $30.00 Perfect for setting with any loose or pressed powders.
May seem like a lot of tools for this particular application but they all help in keeping the makeup looking soft, natural and most importantly well blended.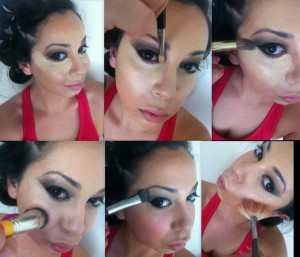 As mentioned before I save this step till the very end. After my foundation, and eyeshadow have been applied. This will ensure that the corrective makeup stays clean, and in place.
I take my concealer brush and apply the dermacolor camouflage cream underneath my eye. Beginning at the inner corner, bringing it down by my nostrils, and back toward my temples. You'll want to  create a crescent shape or a 45 degree angle making sure  the corner is laying right underneath the outer corner of your eyes.
Next I use a tapered blending brush to blend the concealer right underneath by eyes, taking  some  product onto the top inner corner of my eyelids. This technique will help open your eyes, and is perfect for smaller shaped eyes to help create the illusion that the eyes are larger.
Taking the Kabuki #957 brush I begin to smooth the concealer into my foundation. Avoiding harsh lines on the mid section of my cheeks. If you feel that the concealer is too bright and looks strange. Not to worry as it will be easily hidden with any contouring and blush application on the cheeks.
Lastly using your MAC 227 Large Fluff blending brush, and some setting powder I lightly press onto the concealer making sure it sets. This is also a perfect time to smooth out any hard corners from your smokey eye. I actually like setting my forehead using the same pressing technique with the 227 MAC brush. It allows the makeup to stay in place for hours.
This makeup technique is perfect for any special occasion, bride, and photo shoots.
Hope you found this review, and mini tutorial helpful.
For comments and booking inquires, please feel free to email me at Audrey@beautybyaudrey.com
Stay Beautiful & Stay Connected.