Shu Uemura in Shade 764 is the perfect shade for my winter color transitioning into spring 2012. It's very light but blends in perfectly with the blush or bronzer I usually apply.
I actually purchased this foundation way before the Winter 2011 had even started. I for some reason stuck to wearing cream foundations rather than liquid for several months. It was probably a result of all the HD makeup classes I had been taking. I decided to reinvent my daily makeup routine, and look for something less time consuming. I opted for the first bottle of liquid foundation in my drawer, and to my surprise it was Shu Uemura Face Architect in shade 764.
Over all it has just the right amount of coverage, allowing me to skip the concealer portion of my routine. Still my skin looks soft, flawless, and natural.
It seemed a bit light for my skin tone but I noticed that using your hands to apply really helps activate the foundation formula.  Simply massage the product on to your face like you do your moisturizer but don't skip the moisturizer and SPF.  The heat creates more flexibility with your product, and chances are you'll get a better match. Sometimes when you use a brush or a sponge to apply it just sits on the face, and creates more of a clogged pored type of canvas for the rest of your makeup. Of course after I apply it using this technique I'll pick up a beauty blender or kabuki brush to smooth (blend) out any hard edges or lines.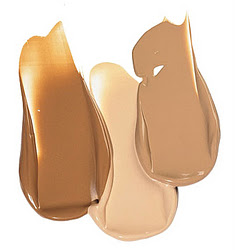 When electing a foundation shade I always try to remind clients not to stress, and show them my little trick on picking a shade that best matches a skin tone. Purchasing a good department store foundation can be a little pricey but I always try to recommend clients to purchase two. Even if you're not a type of person that is into contouring your face,
your skin tone changes through out the year depending on how contentious you are about apply SPF, and how much sun exposure you are getting.
However, when you are testing out foundations if you feel a shade is too light try it on the center of your face, and if it's seems darker try it on the outer sections of your face, right under your cheek bones are best. When you blend it out it creates a subtle contour application.
If you plan on buying only one shade of foundation, pick the shade that is closest to your skin tone. Spruce it up a bit by adding a little blush, mascara, and lip gloss. 🙂
Foundation application Tools:
Hopefully you found this review helpful.
Stay Beautiful & Stay Connected.