A bronzer for a blush.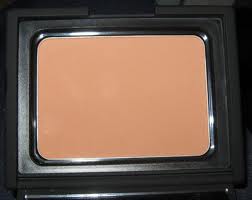 For years I have been looking for the perfect Bronzer, one that wasn't too dark or too orange. I like bronzers that allow me to skip a blush application if I wanted to. One that is soft and just adds a healthy glow to clean makeup application.   In the process of experimenting with  new colors I came across NARS amazing Irresistiblement Bronzer.
I use the bronzer both alone, and as a setter for my cream contours. It's a perfect color for most skin tones, sometimes a pink blush against a lighter skin tone will give a doll like type of look.
NARS Irresitiblement blush is perfect for avoiding such an exaggerated look. It's very subtle and contrast beautifully against pale like skin.
How I apply:
Apply with a goat type bristled brush for best results. The bristles are extremely soft, and is perfect for the right amount to be distributed evenly from the cheeks and back to your hairline. This bronzer doubles as a blush, and perfectly blends into your contour applications.
Here is a great video I found on YouTube by Youtube Blogger MissChievious showing her top 10 blushes. All very pretty and functional colors.
Stay beautiful & Stay Connected.