So many to choose from, how do you know which one to buy and when to stop buying Makeup Palettes.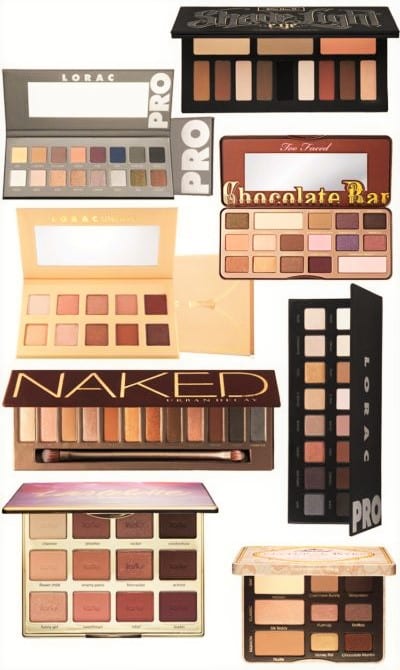 Makeup palettes were designed with the intent to simplify and help stay organize with our makeup products and stations.
There are so many different types of Makeup Palette styles, brands, product combinations and quality of makeup palettes.
This blog has been written with the hopes of helping aspiring makeup artist and the everyday women make the right decision when purchasing your next makeup palette.
It's always so tempting to buy makeup we don't need or already have. I have tons of eyeshadows,lipsticks and bronzers I barely used or have duplicates of and haven't touched but bought because the packaging was too cute or the hype convinced me that I needed another makeup palette contributing to my makeup addiction.
I will share my top palettes I can't live without and favorites that were launched earlier this year.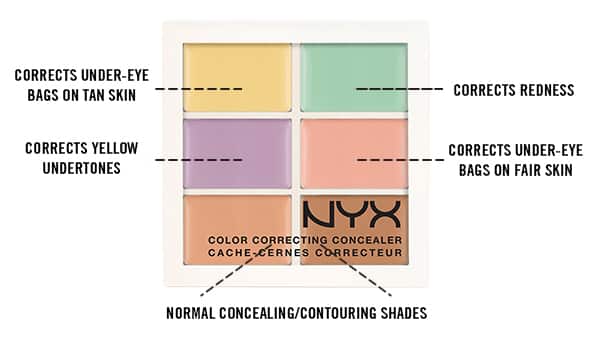 I'll list the palettes in the order used on most makeup application.
On well prepped and hydrated skin I like to begin with correcting any skin imperfections or conceal dark circles. I like to use this palette before I apply my foundation. There are tons of color correcting options available both in department or makeup stores. This multipurpose concealing palette is available online www.nyxcosmetics.com or in most drug stores.
Check for local listings. Retails for $12.00.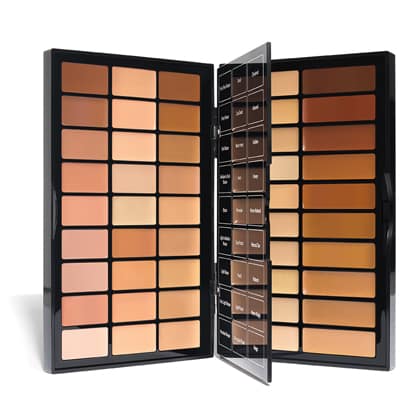 The Bobbi Brown BBC Palette is life and an on-line exclusive. A definite must have for any professional, aspiring makeup artist and individuals that enjoy switching up their makeup style often. This palette has just about every shade needed for a bridal beauty, soft glam and HD Makeup. Perfect for color correcting as well as highlighting and contouring.
This luxurious creamy foundation palette retails at $250 and is only available online.
For palettes containing cream products you'd want to use a clean makeup spatula to scoop out the product needed, so that you don't grow bacteria on your makeup products.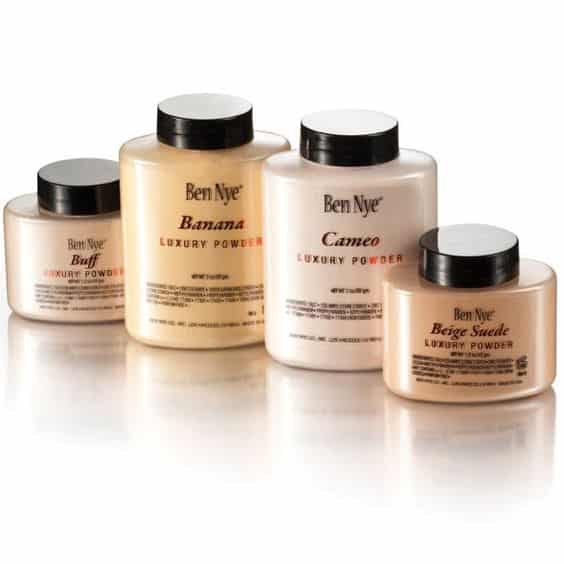 In my kit I have a variety of loose powders by Ben Nye. Easy to keep clean and safe from breaking like pressed setting powders. I dispense small amounts of desired powder shade on to a new clean tissue and use a fluffy brush to lightly apply when setting cream products. In total I use two different brushes to apply and set loose powders. To blend out any hard edges I use a 957 kabuki brush by bdelliumtools. A blog containing makeup brush details will be coming in future blog post. You can find these online or at Nigel's and Naimie's retails between $16.50 to $22.50 depending on size.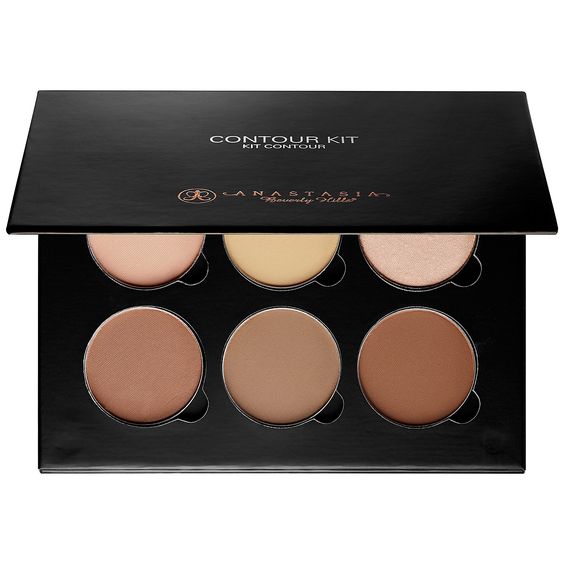 A kit isn't complete till you add The Original Contour palette by
Now for some color. I always start with sculpting the face using this shade combination to create illusions of a slimmer nose, defined cheekbones and a sleeker jawline. You may purchase this beautiful palette online at your nearest Sephora, Naimes or Nigels. Retails for $40.00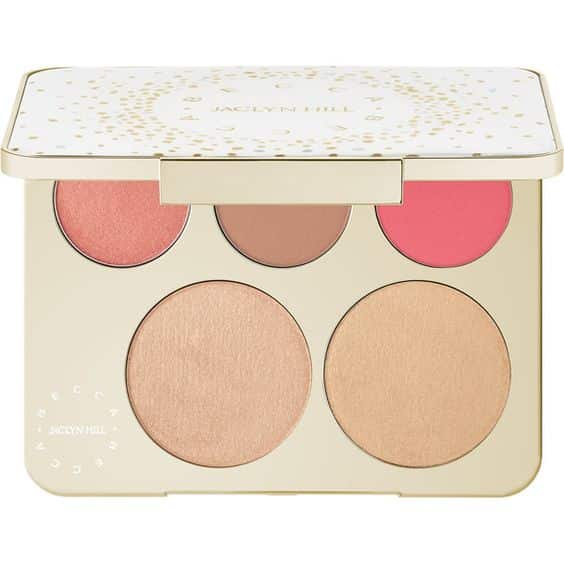 I'm so happy I managed to get my hands on this one. A beautiful collaboration with Jaclyn Hill and BECCA cosmetics. Three beautiful blushes and two gorgeous highlighters. I find myself using this palette almost every day. Perfect for creating a sheer glow and some rosey cheeks. My favorite shades are AMARETTO mineral blush for a subtle contour and PAMPLE mineral blush to create healthy cheeks and bone structure. PROSECCO POP shimmering skin adds the perfect amount of highlight with a dewy illusion.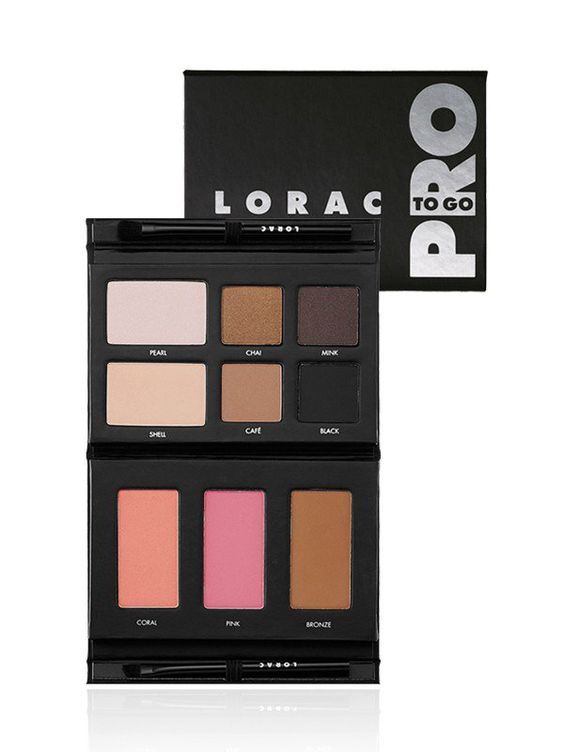 I'm afraid to hit pan with this beautifully put together palette. I think it was a limited edition by LORAC cosmetics and this was an impulse buy but a great investment. It's become my go to palette for all occasion and my number ONE palette when it comes to travel. You can create multiple makeup designs with this wonderful and compact palette. It folds to maximize space and separates the blushes from the eyeshadows. I typically use Bronze to contour, Coral for subtle rosey cheeks.The eyeshadow color combination is perfect for a seductive smokey eye, and Shell to pearl for both highlighting and eyeshadows. This is one of my most favorite palettes. Sadly, I don't think it's available anymore but at the time I purchased it I paid about $45.00 dollars for it. This is an ideal style of palette for travel or professional makeup artist looking to downsize their makeup kits.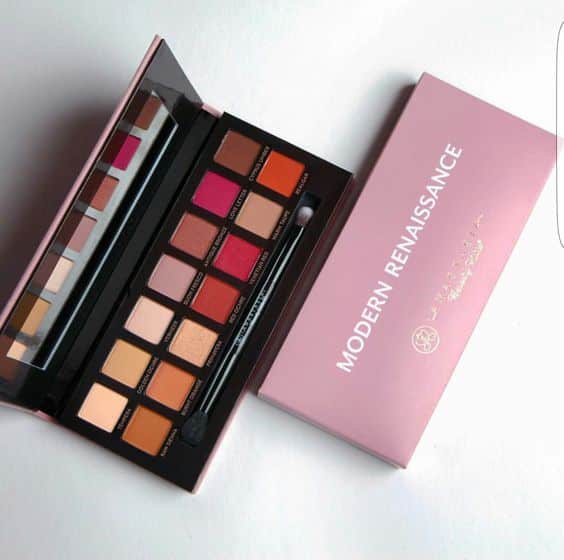 Modern Renaissance has been the palette of choice for all my bridal beauties. So many warm and romantic shades to choose from. You can start with a light warm eye contour and transition into a romantic smokey eye with this palette. Anastasia Beverly Hills always creates the most beautiful and well put together Palettes. My favorite colors to almost hit pan are Tempera, Raw Sienna, Burnt Orange and Cyprus Umber. Available online and in most Sephora stores retailing for $42.00.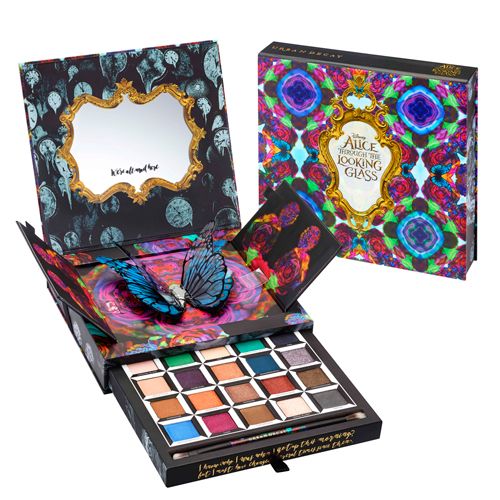 Limited edition and special edition Makeup Palettes are super special for many reasons. Different collaborations have different meanings to us as artist. It can be with a special Disney character, singing artist, fashion designer, celebrity makeup artist or to celebrate a new movie launch.
This Palette collaboration with Urban Decay and Disney was perfection. The colors and packaging are both vibrant and one of a kind. This palette I rarely travel with and use mostly for my personal makeup since the packaging is a little bulkier but still very beautiful. As a huge fan of Tim Burton and Disney this was a palette I had to add to my collection. I've been putting it to use and have my favorite colors already. Top Shades from this Palette: Looking Glass, Reflection, Lily, Duchess, Chessboard, Salazen Grum and Royal Flush. This palette is still available online, Sephora and Ulta Beauty. It would make the perfect Christmas gift for any makeup addicts you have on your Christmas list. A one of a kind palette beautifully packaged and designed with the most beautiful colors retailing for $60.00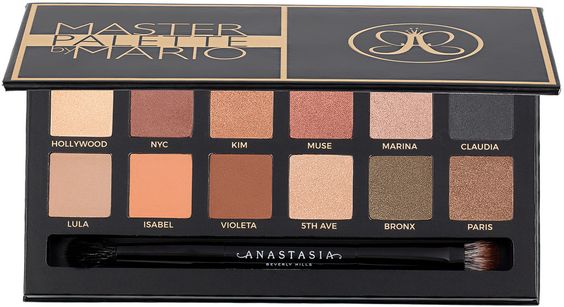 I was able to buy this Palette when it was still on line for Anastasia Beverly Hills. I haven't had the courage to use it, I want to keep it new; however, Sephora is now fully stocked with this magnificent palette I might have to buy one more to actually use. This palette is truly special to me because I have been following Celebrity Makeup Artist Mario Dedivanovic work for years.
It was a great pleasure to attend his first makeup work shop in Los Angeles and watch his career grow in the past years. He is definitely a Makeup Artist I often seek inspiration from. His hard work ethics show through his beautiful makeup applications.
Excited to put this Palette to use since I now know I can replace it at Sephora once I hit pan.
This beauty retails for $45.00 hurry it's a limited edition.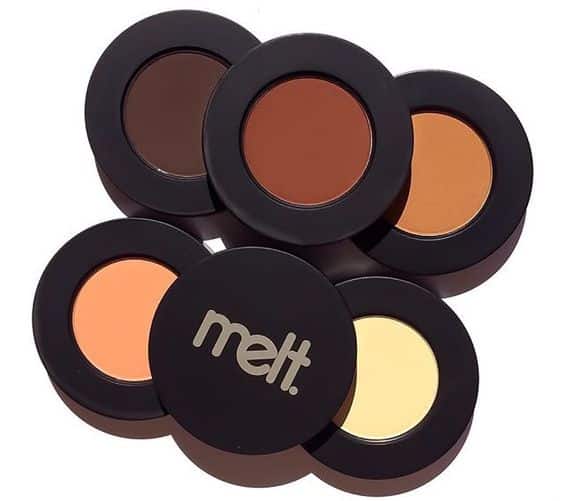 The Rust Stack  by Melt Cosmetics has easily become another favorite. A lot of my palettes have similar colors but still slightly different and I use them for different occasions and makeup applications. These are standard, good quality palettes that will allow me to do the most if I'm on set, at a wedding reception or traveling. The melt cosmetics stacks start out at $48.00 for most stacks with a total of 5 shades you can stack together. The "Rust Stack" is sold for $58.00 as it is their most popular shade. You may now purchase them individually as well for $17.00 all their eyeshadows are well pigmented and blend very well.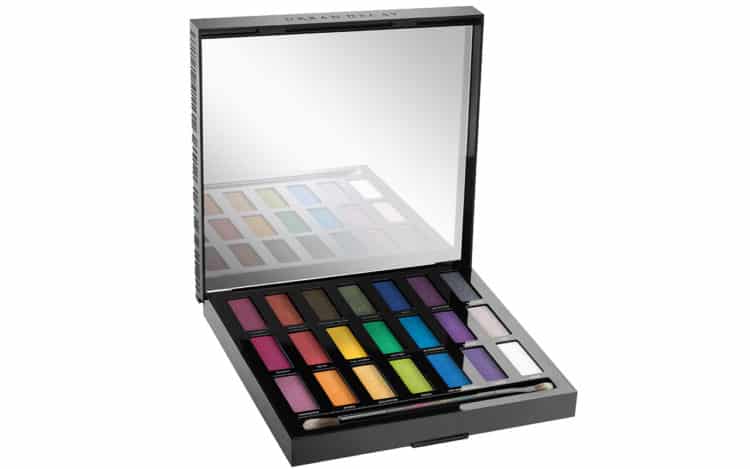 In some research process in writing this blog I cam across this beauty. Full Spectrum by Urban Decay retailing for $55.00
This palette is exactly what I've been looking for as an addition to my professional kit. This will be put to good use especially around prom season for that added "popped color". Since the majority of my palettes have mostly warm tones this palette is the perfect balance giving my makeup clients more options when designing their makeup style.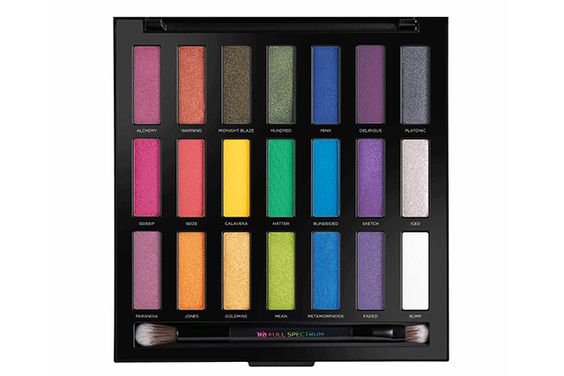 This is part of their Holiday collection. If this is something you would like to add to your makeup collections, I would purchase this as soon as possible. Often times you can find limited and special editions on Ebay if you  can't find it on their site or department stores.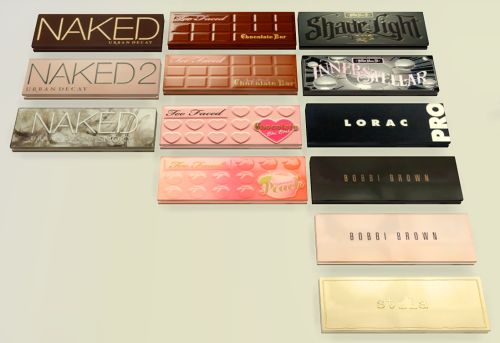 So many Palettes…
How to stay organized? Palettes are way easier to keep organized and there are so many organizing containers available at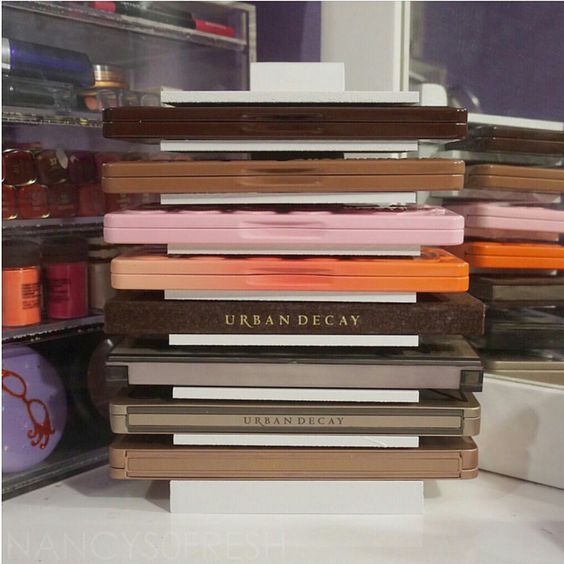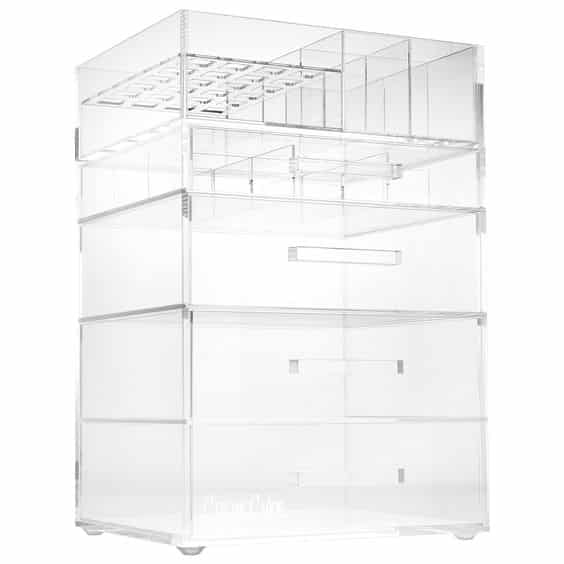 This beauty by Cosmo Cube is the ideal Christmas gift for any Special Artist in your life. This beautiful clear cubes fits all your palettes beautifully and keep the rest of your makeup products organized. This is one of their best sellers retailing for $275.00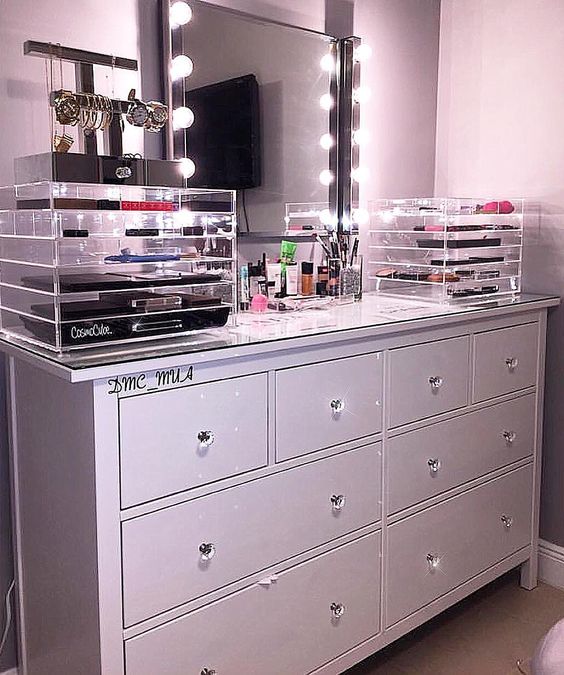 I found this  beautiful picture of a vanity using the cosmo cubes to stay organized. Looks very clean and contemporary. This beautiful image was found on Pintrest and shared for inspiration on how you might want to design your home Makeup Stations. Stay beautiful and stay connected by adding us on Instagram by following @labeautyguide or clicking below.