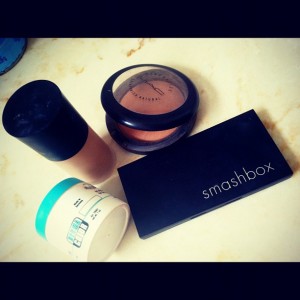 Introducing my favorite team of cosmetics. These 4 wonderful products contribute to many of my polished looks. All top quality and extremely easy to apply.
Always beginning with a clean and moisturized face. For the foundation application you can use your hands as well as a foundation brush to apply. The foundation shown and one I use when achieving this flawless look in minutes is by Gorgio Armani Luminous Silk Foundation.
In Style magazine awarding this foundation as one of the best beauty buys of 2012.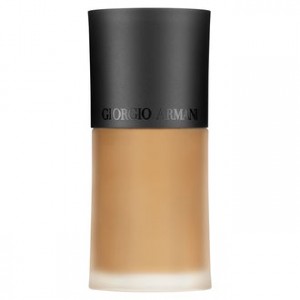 When applying this foundation focus on the outer areas of the face. Not so much under the eyes, around the nose as you will be covering these areas with the DERMA COLOR camouflage system (concealer).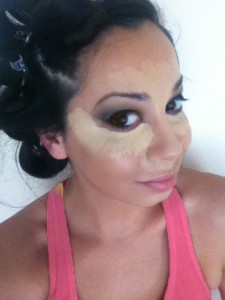 You may use a concealer brush or any small, angled synthetic brush so that you are able to get close to the inner corners of your eyes, under your eyes and around your nose. Blend small areas with finger tips or a small, fluffy brush.
Using my favorite kabuki brush to blend out all edges. Blending over eyes, under eyes, cheeks and all over face. This brush is extremely soft and will blend all makeup out evenly.

Once the concealer is evenly blended with the foundation previously applied. You'll want to set the center of the face with pressed, setting powder of your choice. In this post I am using SmashBox Photo Set Pressed Powder retails for $29.00
 To ensure a smooth finish dip your kabuki brush in a little lose powder and blend all over.
Five minutes… Five products… This routine is ideal for busy moms on the go, business women, and everyday school makeup.
Hope you enjoyed this post.
Stay Beautiful & Stay Connected.