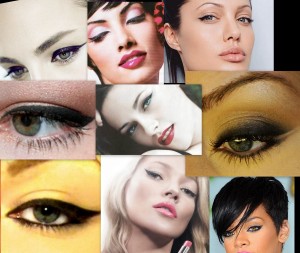 .
There are so many advantages in really knowing how to apply the perfect eyeliner that better suits you, and your personality. Makeup is a great way to show case what you really feel like expressing. There is no ONE perfect way in applying eyeliner but there are ways to make it easier, and I will show you how.
This makeup technique and application can really change the look of any makeup style. It can take a simple day makeup into a dramatic, yet very classy makeup.
GEL EYELINERS:

Here you'll see 3 different, yet perfect gel eyeliners. They are all creamy, long lasting and smooth for an easy application. All are best applied with a small angled brush.
1. Maybelline Lasting drama Eyeliner. Available at all drugstores for $9.99
2. SHISEIDO accentuating creamy eyeliner available at most department stores for $26.00
3. BOBBI BROWN gel eyeliner available at most department stores for $22.00
Gel eyeliners work as a great base for a perfect winged eye, and guideline to a pen eyeliner. Really helps keep it in place.
Winged Eyeliner is known to be a corrective technique to help lift the eyes, lengthen, and widen the eye area. The application has to be done in a strategic fashion, so you don't do the opposite and end up with droopy eyes.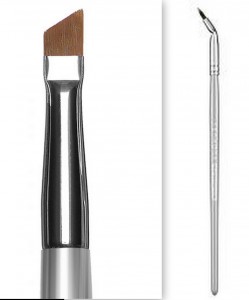 Angled brushes like the ones shown above are normally the best for applying these gel liners. Very sturdy yet flexible enough, so that the product glides onto the lash line of your upper eyelids. These brushes can be found at almost any beauty supply, cosmetic counter, and probably drug stores. They range in different prices too. Anywhere from $5-$30. Don't be fooled by high prices, I have used some amazing brushes that I've paid a dollar for.
You'd want to begin by picking up an angled brush of your choice, dipping into your product, and using the back of your hand remove any excess. This technique also works to ensure that all bristles on the brush are going the same direction.

Holding your eye taught and not pulling. There is a huge difference. When you pull your eyelid to apply any eyeliner, you are stretching the area, and when you release the placement of your makeup will move. To secure it stays in place, simply hold the side of the eye making sure the area is tight if there is any loose skin around the eyes.
Start the line from outer corner going toward the inner corners of your eyes.  The white line shown here indicates where your line should start. Make sure the liner does not go to far out, it's best if you stay with in the lash line of your eyes.
I tend to gently move back and forth a few times with product to make sure I have a bold, and even line.
Using a matte black shadow over the gel liner will really secure the product in place, and prevent your liner from running since it's so close to the water lines of your eyes.
Two more steps or suggestions:
Using a kohl like eyeliner. Line the inner (waterline) and lower corner of your eyes. Using your angled brush bringing the eyeliner out just passing the lash line.
To keep the liner looking simple I only line that small section of my outer waterline. If you'd like to create more drama for the eyes feel free to line the rest of the water line.
The Final step:
This final step could be skipped but it definitely makes a world of a difference, by connecting the line just created by the kohl pencil liner with the gel liner. Laying the pen like liner at an angel right over the outer edge of your eye, and gently dragging it toward the inner corner of your eye. As you get closer to your inner eyes, you will want to release some of the pressure used to drag the liner across your eye. This will help make sure that the line thins, and creates the winged effect. .
Maybelline master Precise eyeliner pen has quickly become one of my favorite eyeliners. It's pen like tip is long enough to help you create a quick, and steady line ever so gently right over your lash line. The tip is firm with the perfect amount of flexibility to help create the perfect lines that slightly curve with the shape of your eye. The price point is extremely affordable at $7.99 I can buy 3 for the price I used to pay for one at a department store.
Applying the perfect eyeliner is definitely a skill that requires nurturing a lot of practice. Some artist or talented women are able to skip 3 of these steps, pick up a pen liner and create the smoothest line. However, everyone has different eye shapes, different stability within their hands. My hand tends to get a little shaky if I apply makeup really early in the morning.
These additional steps can help create some balance.
All products mentions are simply suggestions, and ones I feel work the best.
I hope you enjoyed this beauty post.
For all questions, comments, and booking inquiries feel free to email me at audrey@beautybyaudrey.com
Stay Beautiful & Stay Connected.