This Blog will teach you how to thoroughly cleanse the skin without stripping, and causing skin dehydration.

A clean makeup application should always begin with a clean face. Your mositurizers and primers will just glide over soft, and oil free skin. I'm sure for many just like myself time is of essence every morning as we try to sneak in those extra 10 or 15mins of sleep.
However, it is important for us to remain committed to a healthy skin care routine on a daily basis as we transition into our 30's or at any age really. This will ensure preventative aging, and promote healthy skin.
I try to use my Ultimate Cleansing Method daily, using all of these products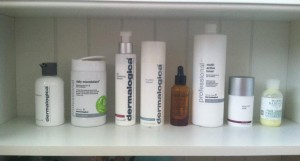 however this can be a bit time consuming and tedious. For an efficient and time saving cleanse, I highly recommend a Double Cleanse, and this cleanse will definitely require "double" the cleanser as in two different types.
You will need to begin this cleanse with an oil cleanser.
This can also be called the "PreCleanse" step. As this first step is to help rid of any oils, debris, and makeup residue before using the cleanser that is recommended for your skin type, and treat any skin condition you are currently battling.
Here is a great video demonstrating the "PreCleanse" process. This video shows a professional Esthetician working on a client but this can definitely be done SOLO at home over the sink, in a hot steamy bath, or in the shower.
This video is a bit long, and the precleanse you do at home doesn't have to be this long. A few minutes should be sufficient.
I like to compare this process to shampooing and conditioning your hair. They sell shampoo and conditioners in one but your hair never really feels the same as if you shampoo & Condition your hair separately. The Shampoo on its own works to remove the dirt and oils out first, before treating it with the conditioner that will leave your hair feeling soft and manageable.
Once this process is complete you will next apply the cleanser that is recommended for your skin type.
Finding that perfect cleanser that is right for you will be similar to finding that foundation that is right for your skin type. A little experimenting, research, and recommendations.
Here are some suggestions:
For Normal Skin: A foaming cleanser, and an exfoliation twice a week is recommended.
For Dry Skin: A rich and creamy cleanser is recommended to help rehydrate the skin is recommeneded.
For Oily Skin: Cleansing the face twice a day with a mild cleanser, and finish with a toner before moisturizer is recommended.  Oily Skin can really benefit from the PreCleanse routine as it attracts any oil on the face to really allow the cleanser to penetrate into the skin.
For Sensitive Skin: Use non scented, and non alcohol cleansers and moisturizers specifically recommended for sensitive skin types.
After the second cleanse is complete you will want to apply mositurizer while your skin is a bit damp. This will take place of the toner, and allow the skin to really absorb the mositurizer you apply.
If you will have the slightest bit of sun exposure make sure to include SPF
Here are one of my favorite SPF's and recommendations.
This may seem like a lot of work but once you get the hang of it, it will take you 10mins max as in you incorporate it into your daily morning shower routine.
Hope you found this #Beauty & #SkinCare post helpful.
Stay Beautiful & Stay Connected.