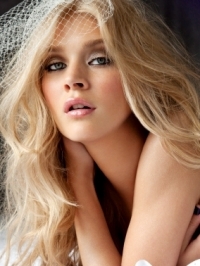 Bridal Makeup is such a fun application to apply, and discuss with future brides. It's a day where almost all women want to feel like a princess, and shimmers are usually the magic behind such beautiful makeup.
In this post I will talk about different types of shimmers to help highlight different features on the face. Shimmers are textured differently depending on what makeup application they are intended for.
Eye makeup is probably one of the most important part of any bridal makeup. The sweet stare of pure excitement as you celebrate your special day can be further showcased by an amazing shadow treatment.
High Definition makeup for photo shoots, and film require most shadows to be matte. However, most wedding photographers defuse, and soften the look of all wedding photos and film. Softening of the photos and film to help bring a whimsical feel to all your documented bridal memories.
Urban Decay's Naked Palette is perfect for any bride to be that plans to do her own makeup, or any professional to have in their pro makeup kits. It's the perfect combination of any desired color of shimmer for bridal makeup. Ranges from light to dark.
These eyeshadow's are best applied on top of an eyelid primer. If choosing to go lighter with your shadow color, any concealer closest to your skin type or light shaded primer will work perfectly. If choosing to go darker a black or dark brown kohl eyeliner, or potted eyeliner will work well.
The inner corners of any color eyeshadow's are usually best when they are kept light with a touch of shimmer.
Here are two of my favorite shimmers. These work well for the inner corner of the eyes, and for highlighting cheekbones.
An amazing product made popular by celebrity makeup artist, Mario Dedivanovic using it on such celebrities like Kim Kardashian.
Eye M Glam is more of  bronzey type color. This shimmer would be used to warm up any look. This can be perfect for any dewy, and soft glow type of look.
Ben Nye has an amazing collection of products designed for theater type makeup. All powders are well pigmented and ICED GOLD luxe powder is very soft to the touch but extremely pigmented. This product will last you years because of how little you'll need to get the desired amount of shimmer.

These two pigmented shimmers are perfect for achieving any of the above looks.
For an all over shimmer perfect for cheeks, eyes, and clavicle area try LORAC perfectly lit. An oil-free and pressed powder with a shimmery finish.
One of the sexiest parts of the body that can benefit from these beautiful shimmers is the collar bone area known as the clavicle. Just a touch of these shimmers will add such a pretty glow to help show off your beautiful strapless bridal dresses.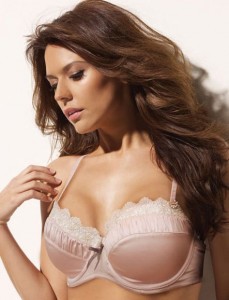 For most of the brides I've worked with, and wish to have a little shimmer around the collar bone. I take a MAC brush #187 the DUO FIBRE FACE BRUSH. Typically, this brush is used for face foundation but is perfect for the application of LORAC TANilizer AWARD SHOW GLOW. The application is light because of the double fibers.
If applied after the bride puts on her wedding dress. Make sure to use a towel or cloth large enough to cover the the dress, and stay about an inch away from the dress or straps of the stress. If applied before follow the same rules of an inch distant, and make sure the bride puts the dress under rather than over.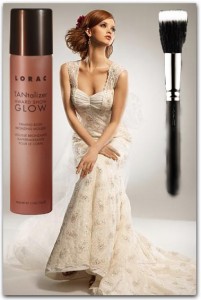 LORAC TANalizer Award Show Glow is available at Sephora, most department stores, and high end beauty supplies like Naimies retailing for $32.00
Apply with MAC cosmetics #187 DUO FIBRE FACE BRUSH, or any brush that may be similar.
Victoria Secrets known for their beautiful models that always seem to wear the prettiest, softest, yet very sexy makeup. The Victoria Secret models are a perfect example of how bridal makeup should look. It's natural looking but still shows how of beautiful a woman can be. Beauty Rush Lip glosses are the perfect topping to any soft lip color you choose to wear on your special day.
Hope you enjoyed this beauty post.
For comments and all other booking information, please feel free to email me directly at audrey@beautybyaudrey.com
Stay Beautiful & Stay Connected.